Evans Halshaw Ford Transit Custom Camper Van
There's nothing better than a British camping trip, right?! The BBQ's, card games, late nights watching the world go by as you sit with a beer in hand underneath your gazebo.
But then the rain comes, and you knew you should have spent a little more time pinning your tent pegs into the ground. Too eager to get the holiday started, now you're worrying about whether the tent will stand through the night.....Well, Evans Halshaw has the answer to all those problems that you've been waiting for.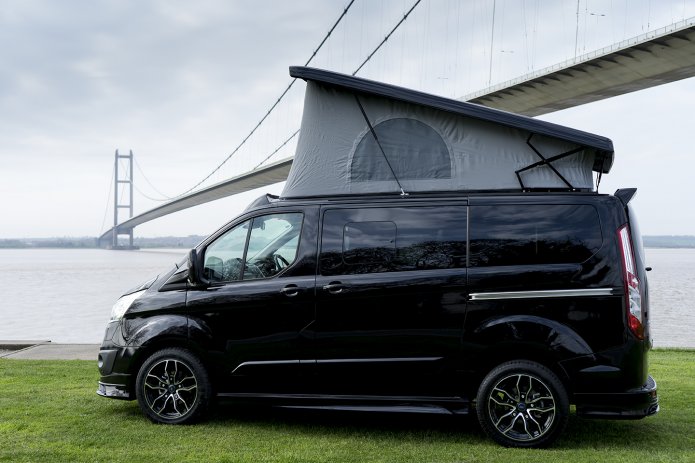 The Transit Custom 4 berth Campervan designed and converted by Key Campers has everything any camping-enthusiast needs. Not only are there incredible features that you'd never find in a tent, you also have the ability to drive your temporary home wherever you need!
No wasting time on erecting your tent, finding space for all your belongings or stressing over how many times you'll need to re-blow up your blow-up bed.
The SCA 'High' roof with bed and mattress and RIB rear seat/bed system promises to provide campers with a superbly comfortable night's sleep. And in the morning, the Transit Custom Campervan is the perfect place to cook a fry up for the gang. The bespoke kitchen in driftwood and white gloss features a two-burner hob and sink - you'll be the most popular campers on site!
For all other necessities, including charging your phone, the Ford Transit Custom Campervan has a full electric power management system which includes a flush fitted 100w Solar Panel, 110ah Leisure Battery, 3 x 240v sockets, 1 x USB socket and 1 x 12v socket.
There's only one way to enjoy the best of the British summer sun this year. For just £44,990, this incredible vehicle could be yours. If you'd like some more information, please contact Evans Halshaw Ford Store Hull on 01482 324234 today.
All the other features you'll need to know about in the Transit Custom Campervan are listed below.
This exclusive to Evans Halshaw Camper Van comes equipped with the following items :
SCA 124 'High' roof with roof bed & mattress (the world leading elevating roof)
RIB rear 2 seat/bed system (fully tested and one of the best in the world in terms of both comfort and safety)
Bespoke kitchen in driftwood and white gloss with overhead locker storage. All cupboard and drawers have top quality slow closing hinges
Dometic CRX50 50 litre fridge
SMEV 9222 two burner hob and sink
Full electric power management system including a flush fitted 100w Solar Panel, 110ah Leisure Battery, 3 x 240v sockets, 1 x USB socket and 1 x 12v socket
Driver Swivel Seat
Passenger Swivel seat with table
Bespoke lined curtains all round and internal thermal cab screeens
27 litre underslung fresh water tank
Dometic portable toilet
Insulated easy clean durable floor
Gas locker with regulator